Welcome to our Christmas newsletter and an update from Pastor Said on the current situation in Beirut. There are many challenges, but your support has, and continues to, make a difference to people who are facing ongoing hardship. So, before we go any further. Thank you.
Hello My friends and greetings from Beirut, Lebanon, in the wonderful name of Jesus.
I chose this promise from the word of God, from Lamentations because I feel it summarises the year 2020. We are all facing death day after day, everything around us says it is over. Le Drian, the French F.A.Minister yesterday in a press conference put it this way: "Lebanon's collapse is like the Titanic's sinking, only without the music"
In fact this is true, it is still happening. Families are sinking in the ocean trying to flee Lebanon, the rest are sinking in debts and anxiety, Lebanon is sinking as a nation, so many times water reached our nostrils, however, every time, our lord had the final say. Everyone in Lebanon wishes that 2020 never existed or could be deleted or undone. They are counting the minutes for it to be over, hoping 2021 will be better. Yes, I understand that, however I see it differently, I want to testify that It is because of His Loving Kindness that we are not consumed, because His compassions never fail, they are new every morning, great is Thy Faithfulness.
I can look backwards and give Praise to His name, with determination in my heart, the one who helped us through those years all through the storm, all through the raging ocean, won't let us sink at the shore. In Malta, the boat of the apostle Paul had sunk but God saved every life as promised. He did it in the past, is doing it now, and will continue to do it. I look forward to the future knowing deep down inside, and proclaiming that He is with us, preparing us a table for 2021. Great is His Faithfulness.
P. Said Deeb.
The End of Summer and Christmas Countdown
This end of summer and back-to-school season are like no other. Spring and summer brought protests, riots because of the economic collapse, corruption, Lockdowns and the pandemic, the August 4 explosion, destruction, terror, inflation, and we're all experiencing a great deal of uncertainty about what the future holds. Which schools and businesses will reopen? What will "reopening" even mean?
Quite the opposite to past years, the summer of 2020 was not like any prior because of all that Lebanon has gone through and humanly speaking, it seems that the winter will not be any better. However, we never stop believing that together, God and His beloved people will give us a helping hand so we can paint a Christmas smile on some Lebanese, and Syrian children's faces.
Since we opened our doors, our mission has been to support children's education, but after the Beirut Explosion we've had a new mission: to help children survivors of the explosion cope with the fear, sadness, and frustration they have experienced and that can be challenging for most of them. We have had the the privilege to have Swiss professionals in trauma counselling come twice to the Life Center and offer their expertise to the families that have expressed their need.
On the other hand, SOL afternoon program was back for few weeks before the whole country lockdown. During those two weeks, lessons were taught by remote learning via WhatsApp and video meetings.
Furthermore, UNICEF and World Vision share a long history of collaboration, co-operation, and impact for the full realisation of children's rights. This year we are partnering with them on a new project – "ECE" – Early Children's Education – giving online lessons for a hundred kids in some of the toughest places and under some of the most challenging circumstances.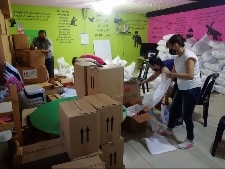 Thanks to your support, monthly, we continue to distribute food boxes to 600 families in the region. We have added cleaning supplies to many of the food distribution boxes after visiting neighbourhood families in their houses and identifying a need for better sanitation. We also continue to buy nappies and milk for refugee babies. Your donations are essential to help us respond to people's immediate need for food and nutritional support during those critical times.
We praise the Lord, and give special thanks to everyone who prayed and contributed for our our new outreach tent in the Syrian refugee camp in the Bekaa Valley.
Finally, the tent was built, meetings have started, many new discipleship and literacy groups are developing there between youth, young girls, couples and adults.
We are so excited to dedicate a few workers at the life Center to help Gaby with this new mission field our Lord is opening.
Charbel Hadchiti serves the Lord with our team at the Life Center. He is married to Maria and they have 2 beautiful little children, one girl and a baby boy. He holds influential ministries at the church and serves in motivating and encouraging individuals to grow to the stature of Christ.
He passionately promotes the expansion of God's kingdom, through multinational small group meetings at church and at his house. Recently he started helping with a new ministry that the church holds for the Lebanese people of the area consisting of two basic discipleship meetings for about 50 members altogether. He follows up with them and sometimes visits them and helps provide for some of their financial needs. He also plays the guitar and helps leading worship at church.
Our vision as a church is to disciple all nations, so we are all working hard towards that aim.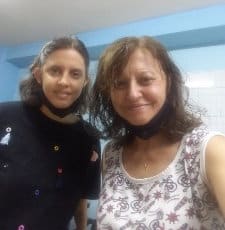 Noura is on the staff team at the Life Center and has been a faithful member at the Church of God since 2002. She later became one of our main spiritual workers on the field. She spends her time doing daily visits to the needy people of the neighbourhood surrounding the Life Center. Lately, after the revolution, the financial crisis, and then the explosion of Beirut, her financial situation has become drastic!

Due to inflation and the devaluation of the currency, Noura's salary is not enough to cover the basic needs of her family. Even before the crisis, she could hardly make it until the end of the month if it hadn't been for the regular support of one of her friends. But this friend finds himself now in the same situation as her where a Lebanese salary is no longer enough for a living. Noura's older son, who has mental disorder, lives at home with her and he is not able to keep a job. His monthly medication is very costly and when he stops taking it, he becomes uncontrollably violent towards both his mom and sister, who also has special needs. She is 32 but has the behavior of a little girl.

As for her husband, he is in a wheelchair as he had his two legs amputated a few years ago because of diabetes. As such, he cannot work and needs ongoing care and support from Noura. He also is on costly medication and no social security support. 
Noura asked us to share her story, trusting that some brothers and sisters might be moved as they read it to help her continue building the kingdom of God. Thank you for reading her story and responding in love.
This is one of the stories that Noura faces on daily basis:
Sabah, who attends prayer meetings at the church, lives in an uninhabitable room with her children, mother-in-law, and son-in-law. Her husband was a tailor, but now is jobless due to the economic crisis in the country. Sabah should pay 400,000 LBP ($100 USD) monthly rent and still needs money to feed her two young daughters. Her mother-in-law has asthma and needs ongoing oxygen and medicines to support her condition. They can't provide for her. In addition, they stay most of the nights in the dark because they have no electricity. All the windows of the house are broken because of the explosion and all the rainwater comes inside the room. The entire family is suffering from permanent sickness due to the bad house conditions and constant exposure to high humidity and polluted air.
Despite their poor living conditions, they were being kicked out of the house for being unable to pay rent. When this came to the attention of the Life Center, we responded immediately to provide for the family.