The following is an update by Pastor Said on progress at the Life Center following the explosion. Repairs have progressed well, and the team are busy sharing the love of God in very practical ways in the community…
My Dear Friend
I am glad that finally i was able to put this letter together.
Two months have passed since one of the largest explosions in history ripped through Beirut's port claiming the lives of at least 220 people, injuring thousands and plunging Lebanon into deeper political crisis. In consequence the government resigned on August 10.
The blast, considered to be one of the biggest non-nuclear explosions ever recorded, has damaged thousands of homes and left an estimated 300.000 people homeless and 100.000 children directly affected mostly needing urgent medical supplies and having experienced a lot of anxiety and fear.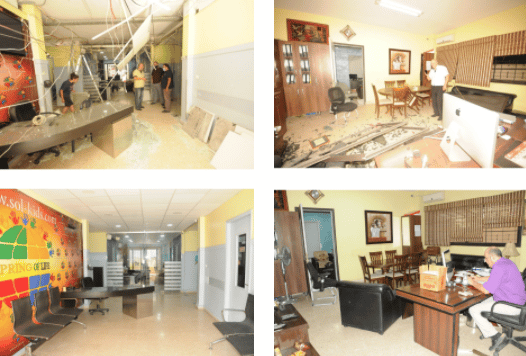 CAST DOWN BUT NOT DESTROYED!
After the explosion, we as "Life Center" worked around the clock to respond to this catastrophic situation by providing hot meals and bottles of water to those affected, not to mention as you are probably already aware, that the Life Center was impacted by the explosion and required a lot of repairs. Ongoing efforts include providing food boxes to many needy families impacted by the blast. We stretched ourselves financially to help those is need and are so thankful for the support you have brought to us.
I hope you'll enjoy watching this short video update on YouTube and be encouraged with us.
Things have gone from bad to worse in the last year for Lebanon as the country is in a state of economic collapse. As expensive as food has become, it is about to get worse. The government has been subsidizing grain, medicine, petrol, basic necessities with the remaining USD that were stolen from the citizens bank accounts that they have lost access to. These are the very last USD in the central bank. These are almost depleted and the subsidies will come to an end. That means necessities are going to quadruple in price and the average family will not even be able to afford a tank of gas.
Unfortunately, running completely out of USD means that the government must start printing lira which means even further devaluation. As hard as life is right now, it is about to get that much worse in the coming months.
To make matters worse, the newly selected Prime Minister stepped down after being unable to form a new government. The inability of the political leaders to even try to make steps toward reforms means that none of the funds from the international community will be available to help stabilize the situation. Desperate people who have lost everything do desperate things. The situation grows more and more tenuous.
We are sad to announce that the support to our Spring of Life program for "children at risk" is at risk of ending for good.
The study support program, along with the daily meal, was stopped to the great dismay of all. With your help we will bring this program back to life and provide education to students with little access to digital devices and internet.
Since the blast we have not been able to hold any awareness meeting for parents and kids, but our social worker has called most of the students and visited a few, referring them to schools or associations, according to their need.
We cancelled our annual trip with the children yet replaced it with a farewell party, respecting social distancing and prevention standards.
Recently, we have started a study support program through WhatsApp, and created different chat groups for each level with their specific teacher. We help fund the Internet access for the parent so that the students can access the chat groups.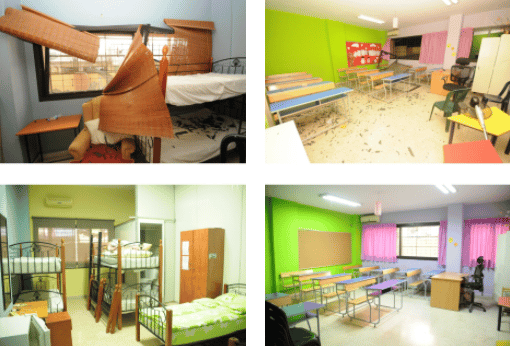 The explosion destroyed 85% of Lebanon's grain reserves, and we anticipate that food shortage will affect much of the country's population. Already before the explosion, food security in Lebanon was a cause of serious concern, with one million people already living below the poverty line and 45 percent of the Lebanese population sliding into poverty, according to the World Bank.
Hyperinflation had already caused food to become scarce and costly, especially for the vulnerable populations in the areas around the Life Center. In response to the growing food crisis, we have distributed bread and hot meals daily to the people of the area. This is the only meal of the day for many. We value your support with the food program as more and more lose the ability to afford even the most basic meal.
Because of Covid-19, and Aug 4 explosion, UNICEF through "World Vision", launched a program to support all the families in our area which count by thousands, we've found it a big opportunity to help everyone apply to UNICEF.
Mid-September we replaced the "Hot Meals" cooking and distribution, by giving food vouchers to beneficiaries, so they can buy food according to their choice from one of the malls we are partnering with.
We also used the Life Center facility to help all affected families living in Bourj Hamoud to apply for financial support with UNICEF, and we are still running this program until October 25, 2020. Thousands of families are showing up to the Life Center on a daily basis and filling online forms. Thanks be to the World Vision staff who are assisting those families. We would love to resume the Hot meals distribution, a meal would cost 1$ , feel free to support as many meals as you want.
On the day of the explosion our young people rushed to the church to help clean up the rubble. Next day they united again to provide support on the ground and distributed sandwiches juice and water to those who had lost their home near the site of the blast. It is vital to protect the future of the youth of Lebanon by providing them with hope and opportunities within the country.
We continue distributing monthly food boxes not only for the refugees but also the Lebanese impacted by the explosion. We have been in constant pursuit of new food boxes and household products for distribution. Thank you for any support you might provide to help us continue this valuable program – this is the lifeline for so many.

Zeinab and her husband are an elderly couple who were expelled from their daughter's house after a family dispute. They cannot pay the rent for their new house because they are both old and unable to work.
After our visit to that family, we were surprised that Zeinab was burned with boiling oil on her stomach, and no one helped her so that she could go to the hospital. We couldn't leave her without assistance, so we bought her the necessary creams and medicines for burns from the firefighting station.
We also helped her with buying food after we saw with our own eyes that the refrigerator was empty. She didn't even have a pack of bread. Now they need an amount so that they can pay the rent.
Our staff member Noura (ex nurse) is visiting her on daily basis to change on the wounds, and pray with her.
Last, but not least, here are some pictures of our new "Tent Base" in one of the refugee camps in the Bekaa Valley. But more on that in a subsequent update!