Welcome to our March newsletter and an update from Pastor Said. Sadly the situation in Lebanon hasn't improved; quite the opposite. The crumbling economy and the COVID pandemic, combined with a sense that the ruling classes are only interested in themselves has led to rioting on the streets. But in the midst of all this darkness the team at the Life Center continue to shine the light of Christ.
Easter Week is at the door and after a strict lockdown, the country is on the move again.
Sadly, the number of COVID infected people continues to increase as well as the daily number of deaths. Protestors block roads, burning tyres across the country after the Lira suffered a substantial drop, hitting a record low of 15,000LL. We also have a new wave of people committing suicide.
While the church is busy saving people's lives with food and medical relief our politicians are in a total coma, totally absent and turning deaf ears and closed eyes on the suffering of their people.
We never imagined completing this newsletter under the current circumstances. We trust it finds you safe and well in these testing times.
When we ask Lebanese leaders about Lebanon's situation and the future:
The president answers: "to hell".
The minister of Energy: "to total darkness".
The minister of interior: "To total chaos".
Some politicians: "to civil war".
The minister of health: "to a medical catastrophe".
The minister of economy: "to starvation".
And the list goes on…
Ironically and for the first time they are all in agreement.
How would you respond to this kind of situation? How would you plan or take action? We could spend a significant amount of time attempting to summarise the vast amount of effort, time and work that all the staff are devoting to help people each day in-spite of the lockdown that has not helped make life simpler. You may rest assured that we will continue doing so.
Friends, today we depend on your support more than ever before.
P. Said Deeb.
Re-start of the "ECE" , Online Educational Program, we previously mentioned all the details concerning it. Recently we have recruited new staff to adjust student's learning approach to individual cases. We aim that students focus on completing work to the best of their ability and at their own pace.
The Spring of Life Afternoon Program was paused due to the lockdown yet we have kept open and supportive communication with overwhelmed parents and students. Their concerns are great.
We hope that we will be able to continue our program starting the next month.
Thanks to your support, we continue to distribute monthly food boxes to 400 families in the region. We have added cleaning & hygiene supplies to many of the food distribution boxes after visiting neighbourhood families in their houses and identifying a need for better sanitation. We also continue to buy nappies and milk for their babies. Your donations have enabled us to respond to people's urgent need for food and nutritional support during those critical times.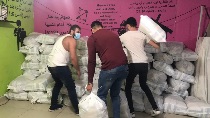 In respect of social distancing and in coordination with their leaders and the help of two volunteers in sports and music, we are organizing small cell groups for our youth to provide them with a healthy and nurturing surrounding.
As you can see they are also a key part of our relief program!
This is a new venture for the Life Center in the face of the demands of the COVID crisis.
We have been lending a number of wheelchairs, crutches, and sticks in addition to five respiratory machines (oxygen concentrators) that have been donated to the Life Center after having informed people about it through an online link.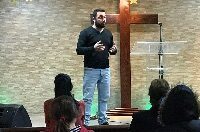 The discipleship classes addressed to the Syrian, Lebanese and Armenians community have resumed, the number of disciples is growing faster than expected, they come with economical, physical and financial challenges. And the lord is helping them through.
We give thanks and glory to the Lord for the ministry in Anjar inside the Syrian Refugee camps. After we pitched our meeting tent, we have housed discipleship cells. Later because of the lockdown, the "Al Massira" course was paused for a while. Recently, eight people got baptised, and in spite of all the circumstances we never lost  connection with them and now we have two new groups. One is formed of ten women and the other of fifteen young people.
We also visit people in their tents to give them spiritual and social support, and recently distributed food boxes for 70 families. Unfortunately, we faced a problem with one of the families who tried to stop one of our ministers with a knife, but thank God they couldn't harm him. Later the same minister went back to that tent and proclaimed forgiveness and love to the man who had tried to hurt him. Next day we went back to the same house with food boxes. What an incredible opportunity to reach out to this tribe in the Bekaa valley!
My name is Leyla. I am from Syria and I'm married with three children. I left my country during the Syrian war and came to Lebanon fearing "Daesh" (ISIS) and slaughter. After those terrible events my husband's health was greatly affected. He lost his ability to walk and laid in bed for a whole year. He had a reduced desire to eat leading to a very weak appetite and stomach ache.
She recalls: "On a day I consider very special, brothers from your church visited me because some friends had informed them about my situation. I cannot describe my joy and amazement I felt while they were at my house. I was overwhelmed with their love and both my husband and I felt things that we never experienced before. After I started going to the church and attending prayer meetings, I discovered the secret of that joy and peace, and I learned that Christ died because of His love for us as a family. The church helped me provide the basic needs for food and medicine for my husband and children and continues to do so as my husband's salary is insufficient even to pay rent. We have received threats from our larger family, especially after I took the decision to take off the veil, but we are not afraid. May God bless this church."